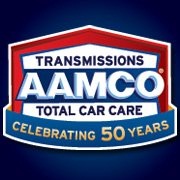 Keeping up with your car company can be beneficial. Following AAMCO Total Car Care can keep you in the know with helpful online car advice, as well as give you exclusive specials and fun car trivia. AAMCO Total Car Care's current online special celebrates their fifty year anniversary and helps give back to those that deserve it with their 50 years, 50 cars, 50 states campaign. As part of their celebration, AAMCO has partnered with the Military Order of the Purple Heart where AAMCO will repair "50 Cars in 50 States." Once you check out AAMCO's online deals, you can stop by your local AAMCO car care store near North Canton, Ohio; Canton, Ohio; and Massillon, Ohio.
AAMCO Total Car Care has expanded its online community from Facebook to Twitter, to WordPress to YouTube. AAMCO tells you the story of how they came to be, both visually and verbally. @Aamco tweets helpful car advice and answers any questions you may have about your car or AAMCO Total Car Care in general. If you have a question about AAMCO's rewards program, you can tweet your question to AAMCO and get it answered immediately. AAMCO always has someone standing by to take your questions. If you would like to watch any of AAMCO's videos or commercials, you can catch them on their YouTube channel. AAMCO's YouTube, www.youtube.com/aamcocarcare, is currently running their hilarious fifty year celebration commercials, so catch them while you can! If you want to see exclusive specials, head over to Facebook and "like" AAMCO.
If you have been looking for a place that has helpful online car advice from the experts, AAMCO's blog, aamcoblog.wordpress.com, is it! AAMCO's blog reveals car tips, maintenance advice, and what AAMCO can do for your make and model of car. You can personalize the site for yourself, no matter what make or model automobile you have. Plus, you can find tips and deals at AAMCO especially for you. Right now, as AAMCO celebrates their fifty year anniversary, their 50 years, 50 cars, 50 states campaign can be found on the front of their homepage. AAMCO's "50 Cars in 50 States" campaign begins this summer and will run through the end of the year until repairs are complete. Providing comfort and assistance to military veterans and their families is the intended goal of the Military Order of the Purple Heart. A veteran in each state will be selected to receive free auto repairs at a local participating AAMCO dealer location. Additionally, one deserving veteran and their family will receive a brand new car. AAMCO celebrates their victories by giving back to their costumers in North Canton and throughout the country.
AAMCO Total Car Care has expanded its reach online, making them even more accessible to their customers. Whether you have a question, need a repair, or just want to expand your car repair knowledge, AAMCO is available. With their helpful online car advice and experienced staff you can feel confident that no matter what happens; AAMCO can help you through it. Their exclusive specials online keep their unbeatable prices even more competitive. AAMCO understands that fixing your car is a necessity and shouldn't require breaking the bank to get what you need. Stop by any of their online sites to see AAMCO's progress with partnering with the Military Order of the Purple Heart. If you are in North Canton, Ohio; Canton, Ohio; or Massillon, Ohio, give your local AAMCO a call at 330.493.0311 to schedule an appointment, or visit their website at http://www.cantonaamco.com/.