Audrey's Attic in Orrville, Ohio has sales and promotions every month, but none are quite so special, or offer such incredible savings, as April's Daisy Drawing. When you are entered into the Daisy Drawing, you have the chance to win one of three Audrey's Attic gift certificates good for $100, $50, and $25 respectively. If a hundred dollars in savings at Orrville's favorite country shop, Audrey's Attic, sounds good to you, then don't miss your chance to win!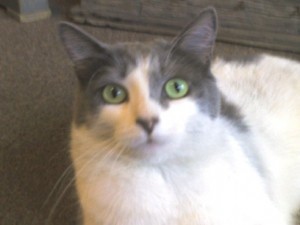 April is a beautiful time of year in Ohio, and the Orrville area is no exception. Tulips, daffodils, and yes, even daisies, are lifting their faces to the sun and filling the landscape with color. However, if you're a regular visitor to Audrey's Attic, you may already know that the Daisy Drawing for over a hundred dollars in savings is not named for the spring flower. Rather, it is named for Audrey's Attic's resident feline, Daisy the cat.
Daisy knows the shop like no other, having explored every nook and cranny. As a reward for the attention she receives from visitors, she has convinced the store's human proprietor to offer these outstanding savings in her name.
So, how do you win a gift certificate to Audrey's Attic for $25, $50, or even $100? It's simple! Head over to Orrville for a little shopping between April 23 and April 28, 2012. For every $10 you spend at Audrey's Attic during that week, your name will be placed into the kitty—er, drawing. After the end of business on Saturday, three winners will be selected from all of the entries. There is no limit to how many times you can be entered, so if you want to be entered to win one hundred times, just spend $1000 during that week!
If you are lucky enough to win big in April's Daisy Drawing, it won't take long for your gift certificate to be spent. Audrey's Attic is full of primitive and country cute crafts and décor, amazing candles and warmers that will make any room cozier with their soft glow and sumptuous scents, along with antiques, collectibles, and curiosities from days gone by. Audrey is always on the lookout for unique new finds to add to the shop, and with the changes to her inventory, it's like walking into a new store each time you visit!
Audrey's Attic is also known for having excellent prices, so your gift certificate—no matter the amount—is likely to stretch quite a bit further than it may at a similar type of shop. There are several other sales running throughout the month, so there is never a bad time to visit, especially if you're looking for savings on greens, garden flags, vases, and more.
If you have not had the pleasure of shopping at Audrey's Attic, now is the time to start! You won't be able to resist returning often to check out the new merchandise and to take advantage of the different sales and savings that are offered each month. If, for some reason, you still haven't been convinced to head to Orrville, Ohio right away or if you are just too far away to make the trip, you can visit Audrey's Attic online at www.ShopAudreysAttic.com. Just remember, you will not have pleasure of meeting Daisy if you only shop online!
Audrey's Attic is located right on Main Street in Orrville, Ohio, so it won't be hard to find. Be sure to do some shopping during the week of April 23rd to be entered to win big savings in the Daisy Drawing that will take place on Saturday, April 28th. For more information about Audrey's Attic, call 330.683.3384 or visit the website. Daisy and Audrey look forward to seeing you!
Audrey's Attic
147 N. Main Street
Orrville, Ohio 44667
Phone: 330.683.3384
Email: Contact@ShopAudreysAttic.com
Hours: Closed Sunday; Thursday 10am – 7pm; all other days 10am – 5pm (see holiday schedule for exceptions)