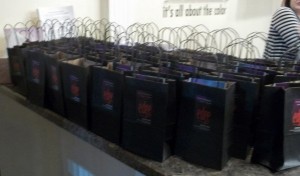 iShop wants to help you to build your customer base and grow your business by planning an event for you! iShop has more to offer businesses in Stark County and throughout Northeast Ohio than the coupons, specials, and gift cards customers can print and purchase from iShopStark.com, iShopSummit.com, and iShopCyuahoga.com. They can create a customized event for your company that may be the key to introducing you to the community, and bringing in new business.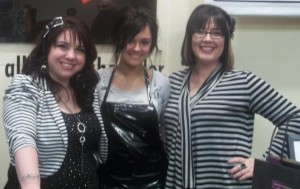 If you're not sure how an iShop event could benefit you and grow your business, check out the wildly successful Girls' Night Out at Stark County's Edge Hair Design in Canton, Ohio!
iShopStark.com was very pleased to coordinate with Edge Hair Design to create this fantastic, stylish evening.
iShop promoted the event via Facebook and email, as well as tracked all of the RSVPs. Edge Hair Design was free to continue to run their business, and not be concerned with how to advertise their special event. They were kind enough to provide gift bags to the evening's guests, each of whom had an opportunity to be pampered by the talented and enthusiastic Edge Hair Design staff.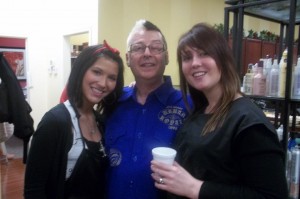 When they opened their doors on the evening of Friday, March 2, 2012, Edge Hair Design in Canton welcomed forty guests who were eager to take advantage of the available services and refreshments, and even discover new tips, tricks, and techniques.
At this particular Stark County, Ohio event, ladies could receive free makeup applications, nail polish changes, and hairstyle touchups! They also received a free $25 gift card pack from iShopStark.com simply for attending. As you can see from the photos, Edge Hair Design had a full house for Girls' Night Out, and everyone—staff and guests—had a great time! The new hair chalking technique was one of the most popular services of the evening, and is sure to have some guests returning as regular Edge customers.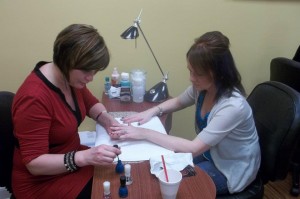 That is the goal of each and every iShop event: to assist their clients in growing their businesses and expanding their customer bases. Girls' Night Out was as much of a success for the attendees as it was for Edge Hair Design. You can find more photos from Girls' Night Out on the iShopStark.com Facebook page HERE.  Want to visit Edge Hair Design?  Stop by iShopStark.com for special savings, gift cards, and more!
iShop has also held health and wellness events. Most recently, iShop teamed with sponsor Ohio Pools & Spas, as well as Academy of Self Defense in Tallmadge, and Superior Fitness Personal Training for an event at Pinnacle Chiropractic Health & Wellness Center. Each of these businesses benefited from the iShop event as customers discovered new companies and what they had to offer.
Guests were treated to self defense and fitness demonstrations, dietary and supplement suggestions and examples, and free foot scans. An amazing infrared sauna was on hand to show just how easy it is to add heat therapy and relaxation equipment to your home.
Also, Dr. Craig Banks discussed relevant health topics, and how you can improve your day-to-day well-being with just a few minor lifestyle adjustments. All of the Pinnacle Chiropractic staff took the time to work with guests one-on-one, and address their specific concerns, answer questions, and more.
The personal attention from all of the businesses present is the first step in establishing a relationship with a potential client and building your customer base and growing your Stark County or Northeast Ohio business.
Let iShop help you to grow your business and build your customer base with your own special event! Contact owner Marc Albert at MarcAlbert@iShopStark.com today to begin planning. Like Edge Hair Design, iShop's next exciting night out could be at your business!