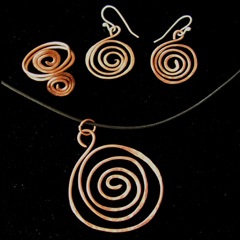 Finding your own style can be a little daunting to those who are just starting to find their voice. Have you been dying to wear a unique piece of jewelry? Jewelry can be a great start to finding something original that lets you stand out.Have you thought about attending a jewelry making class to learn how to make your own personalized pieces of jewelry in Stark County, Ohio? Canal Fulton Glassworks offers classes to Canal Fulton, Ohio and Green, Ohio to help you find your own personal style.
Each of the jewelry making classes is instructed by Katie Mullins, owner and artist of Bonya's. Katie is a self taught jewelry maker and works to improve her skills daily. Katie finds her inspiration through her own creativity as well as her life experiences. The most notable shows Katie has attended are Yankee Peddler Today, Art in the Village at Legacy Village, Ohio Mart at Stan Hywet, Cain Park, Christmas Arts & Crafts at E.J. Thomas, Tower City Art Festival, and Shaker Heights Art Festival.
All of the chains that she uses are hand crafted and only the highest quality sterling silver and copper are used. The only sterling silver Katie will use is .930 Argentium Sterling Silver Wire or .930 Argentium Sterling Silver Sheet. Copper can be found in many of Katie Mullins designs at Bonya. The 99.9% pure cooper is applied with either wax or acrylic to help keep the color bright and show off the natural characteristics.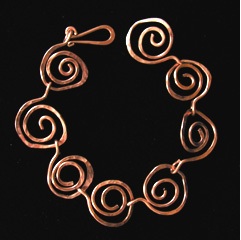 Bonya creates personalized pieces of jewelry through the classes at Bonya, Katie helps teach you how you can do the same. The name, Bonya itself is creatively personal. As her step-grandson was learning to say "Nana", the name "Bonya' tumbled out of his mouth instead. When Katie started her artistic endeavor in 2006, the nickname her youngest family member gave her only seemed fitting for her business.
At Canal Fulton Glassworks you can attend Katie's jewelry making class and learn how to make several unique pieces of jewelry. Some of Bonya's signature looks are the hammered spiral set, hammered spiral bracelet, and the galaxy and love knot rings. A love knot ring is said to date back to the medieval time when a man would tie a silk ribbon around his true love's finger. You can learn how to make the love knot rings as well as the more modern version of the love knot ring, the galaxy ring, during your courses at Canal Fulton Glassworks. Each class is forty dollars a person. The forty dollars covers the tools, the instruction, and the materials needed to make each ring. Students are guaranteed to leave with at least two rings from the session. Canal Fulton Glassworks also offers glass bead and pendant classes.
Canal Fulton Glassworks jewelry making class, Bonya, can help you create your own personalized piece of jewelry. Not only are you able to find a unique piece of jewelry that is unlike anyone else's in Stark County, Ohio but you can learn how to make your own. Each gorgeous piece of jewelry is built to not only be seen but also to last. For more information, see schedule of courses, learn more about the courses offered to the residents of Canal Fulton, Ohio and Green, Ohio you can visit their website www.canalfultonglassworks.com or call 330.854.2966.