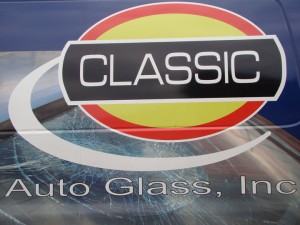 One of the most important things you can do for yourself and for your car this winter is to prepare your car for winter in North Canton, Ohio; Canton, Ohio; Massillon, Ohio. Having car trouble in the middle of winter isn't ideal for anyone, but if there is anything wrong with your car, the winter weather will only exacerbate it. Driving with a cracked windshield can not only be dangerous but it can also be costly if you don't fix it in time. If you are looking for a free quote or reliable, certified auto glass specialists before winter hits, Classic Auto Glass should be your next stop.
It can be easy to get stuck behind any number of trucks in North Canton. Small objects, like rocks, that the truck may be carrying can shoot from the truck and straight into your windshield, causing small cracks to appear. If you have a small crack in your windshield now and put off fixing the small crack, the winter weather can turn that chip into a serious problem. Winter can bring freezing temperatures that ice over your windshield, using warm water to defrost them cause the crack in the glass to expand and contract, promoting further cracking through your windshield. Once water has entered a cracked windshield, it can be hard to remove the water properly and nearly impossible to repair. Removing any kind of moisture from a crack in the windshield requires excessive techniques. For some, a vacuum must be applied to the cracked area, for others a drill needs to be placed over the cracked area to forcefully remove water from the windshield. Once a crack has expanded over the windshield, even these methods may not be effective. Most cracked windshields started as a small rock chip and were left ignored until it expanded into your line of vision. Once the crack expands, some windshields need to be completely replaced. The certified auto glass specialists at Classic Auto Glass can repair your windshield before it becomes a problem. No matter what kind of car you have, Classic Auto Glass can help remove and repair any windshield.
Driving with a cracked windshield can be distracting. However, driving with a broken window can be worse. A broken window can cause rain, snow, and other outdoor elements into your car, causing a safety risk. If your window opens and closes with jerky or irregular movements, creates a squealing or mechanical noises but the window doesn't move, or simply does nothing when you try to roll the window up or down, you may need to see Classic Auto Glass to fix your broken window before winter hits. Finding the components to fix a window regulator can be tricky. The parts for your window are found deep inside in your door and require a professional to find the problem. No matter what you need to do to prepare your car for winter, window regulator replacement, windshield repair or just a free quote, Classic Auto Glass can help you.
Driving with a cracked windshield can be a safety hazard and driving during the winter with a cracked windshield can do further damage to your car. Don't wait until winter to replace your window regulator or a cracked windshield. Prepare your car for winter before it hits. The certified auto glass specialists at Classic Auto Glass can get your car back on the road. Classic Auto Glass located at 4413 Cleveland Ave. SW in Canton, Ohio (330.484.0597), can help North Canton, Ohio and Massillon, Ohio residents drive a little safer this winter.