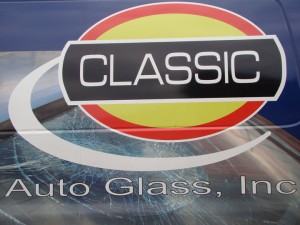 Calling Massillon, Ohio and North Canton, Ohio area owners of 2001 to 2006 Chevy and GMC pick up trucks: today is your lucky day! Classic Auto Glass in Canton, Ohio is ready and waiting to perform your windshield replacement or stone chip repair! Wondering what's so lucky about that?  What if they would replace your truck's windshield for only $150?  Well, they will, and your luck doesn't stop there…by replacing your cracked or damaged windshield, you will be avoiding a potentially hefty fine! Because, in the state of Ohio, it is illegal to drive with a cracked windshield! Now see…it really is your lucky day!
But, don't let your luck run out! Classic Auto Glass has many ways to save on stone chip repair and windshield replacement. First, the featured special listed above can be found by going to www.iShopStark.com, enter Classic Auto Glass in the search box and a coupon for the exact same special will appear! Next, print the coupon out…because this special deal is only good with coupon in hand. (Some restrictions apply: not valid with any other offers, tax not included.)
Now, you are probably thinking to yourself, "I don't own a Chevy or GMC pick up truck…what about savings for me?" Good news! Special deals and savings are featured on Classic Auto Glass' Facebook page. It is easy to keep updated on specials and coupons…just go to Facebook and "like" Classic Auto Glass. Here you will find interesting articles, facts about your favorite local auto glass company, tips that can save you money, and everything you can imagine about stone chip repair and windshield replacement! They will even alert you to new coupons available at www.iShopStark.com! It's pretty easy to save when you think about it! And Dave Finefrock, owner of Classic Auto Glass, knows how important it is to save money on auto repairs!
Dave and his small staff of four know how important it is to not only keep your vehicle safe, but to save money at the same time! That is why the average windshield replacement usually runs between $145 and $170. And with over 2,000 parts in stock, chances are, they have what you need without waiting…and that in itself can save you time and money!
Another way you can save money is to visit their website at www.classicautoglassinc.com and look under the "promotions" tab. There you will find the current specials offered at Classic Auto Glass. For the month of June, Classic Auto Glass is offering a few deals which include specials that were held over from Black Friday because they were just too good! Take advantage of $50 to $75 off your insurance deductible when you have your services performed on site. Also, available in-shop only, is a $30 stone chip repair special. Have your stone chip repaired now, and avoid the cost of replacing your windshield later! But, if you must have your windshield replaced…Classic Auto Glass is offering you a free Aquapel treatment with every new windshield replacement in the shop! Now those are three great reasons why drivers in Massillon, Ohio, North Canton, Ohio, and surrounding areas should actually visit Classic Auto Glass on 4413 Cleveland Avenue Southwest in Canton, Ohio…or give them a call at 330-484-0597!