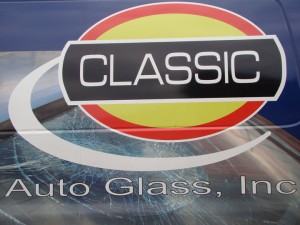 Old man winter is right around the corner in Alliance, Ohio! And when it comes, it will come with fury! The Massillon, Ohio streets will get icy and slick. The plow companies will be on call round the clock to throw salt and rocks to keep the roads safe. While the salt may keep our roads from getting too icy, it will cause much abuse for our car windshield visibility. That's why it is important to prevent glass cracks and fix chips in the windows quickly to prevent major damage. Classic Auto Glass in Canton, Ohio can help with all of your winter auto glass repairs. Having been in the glass business for over 20 years, they understand the importance of great customer service by offering the best materials and best service at the best price!
If you are like most people, you may wonder, "Why do I seem to get more windshield cracks during the winter?" or "Why should I fix chips in the window?" It is no coincidence that winter auto glass repairs are higher than most other times of the year. This is because a chip is really a tiny hole that lets in moisture. Once the temperatures in Alliance dip below the freezing mark, the moisture freezes and expands. The expansion can cause the windshield to then crack. The goal is to prevent glass cracks. That is why it is important to fix these chips as quickly as possible by visiting Classic Auto Glass.
Most of us allow windshield damage to exist for months or even years before we get around to making the repairs. What many people don't realize is that windshield repair is more than just cosmetic. It can become an issue of car windshield visibility or even safety. Oftentimes cracks present problems when they are in places that can interfere with the driver's line of vision. There are a couple of states that would allow police officers to give a citation to a driver that has a crack in his or her line of vision on the windshield. This can cause impaired vision and can ultimately cause a decrease of car windshield visibility.
The windshield of your vehicle is an important part of the main structure of your vehicle. Millions of dollars are spent on researching ways that the frame, body, air bags and even windows work together during a crash to minimize damage to the vehicle, driver or passengers. Should you ever be in a rollover accident in Canton, Massillon, or anywhere else, and you have a crack in your windshield already, the results could be much more devastating than if the windshield were intact. The windshield in these types of accidents can provide up to 50 percent of a vehicle's rollover strength, and is usually the only thing that is keeping you and the passengers from being ejected from the vehicle. That's why Classic Auto Glass wants to be sure that your windshield and windows are in tip top shape before winter hits!
Don't put off winter auto glass repairs! Whether you live in Massillon, Ohio or Alliance, Ohio, Classic Auto Glass in Canton, Ohio is the place that you need to check out to fix chips in the window to help prevent glass cracks and improve car windshield visibility this winter. You can check out pictures of jobs that they have done at www.classicautoglassinc.com or call 330.484.0597 to get a free, no obligation quote on your winter repair.