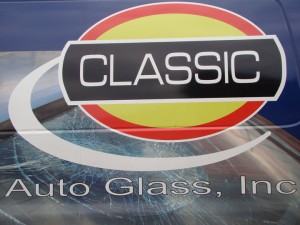 Do you have a chipped or cracked RV window? Most people have dealt with having to replace a broken window on a car or truck. Replacing an RV windshield in Hartville, Ohio; Green, Ohio; or North Canton, Ohio can be difficult.  However, RV window repairs can be much harder to obtain. The majority of car care shops usually lack experience in RV window repair or they just don't offer affordable window replacement. But Classic Auto Glass is a local expert on RV window replacement for an unbeatable price!
Replacing any windshield is a pain. Some of us put off fixing a small chip, only to find that the tiny flaw has turned into a massive crack. Driving with a cracked windshield can be extremely dangerous. Not only can that mark impair your vision, but in some cases the windshield can actually be a support structure. For instance, if you get in a bad accident and you have a cracked window, your roof can actually cave in! Your windshield protects you from numerous outside elements that you don't want flying at you as you drive down the road at sixty miles an hour.
Replacing a cracked RV window can harder on your budget than any other car. RV windshield glass is some of the most expensive glass you can find. Installing a new windshield on a car or truck is easier because there are usually about half a million copies of your car currently on the road. With the large amount of windshields being replaced for the same car, repeatedly, the cost of your windshield repair comes down drastically. However, RV models are not as common. Since there is a lower quantity of RV window replacements, the individual cost to manufacture them is a lot higher. An RV window repair can cost you anywhere between $500 to $1000 for a single window replacement! Unlike other automobiles, your insurance may not cover your RV repairs. Every state is different in what they will or will not cover for RV care.
Finding an affordable window replacement in Green for your RV can be difficult. But Classic Auto Glass is a small company with a friendly staff of auto glass experts. The trained technicians work hard to provide each customer with excellent service at a reasonably priced rate. Classic Auto Glass will accept any insurance and will do all they can to get your RV windshield ordered and replaced quickly.
Classic Auto Glass is the place for Hartville, Ohio or Green, Ohio RV drivers. So, don't put off replacing a cracked RV window! As the winter weather begins, the small crack will only begin to expand. RV window repairs can be challenging and costly. Classic Auto Glass provides the most affordable window replacement in North Canton, Ohio. To see what else Classic Auto Glass can do for you, visit their website, www.classicautoglassinc.com. To schedule an appointment with Classic Auto Glass, give them a call at 330-484-0597 or stop in to see them!