If there's one thing we can all appreciate, it's hot, delicious soup made from scratch by people who really know what they're doing. And lucky for us, Figaro Farms Fresh Market in Green, Ohio can provide the mouthwatering, feel-good dishes we all crave. Along with a wide variety of homemade soups, Figaro Farms Fresh Market offers a large selection of tasty fall food specialties for Uniontown, Ohio and North Canton, Ohio locals to enjoy. From crisp fall vegetables to fresh baked bread and sweet desserts, Figaro Farms Fresh Market has all the best tastes of autumn wrapped up in their high-quality meals. If you feel like you've been missing out on the seasonal comfort foods that Figaro's offers, you'll definitely want to take a look at their menu and head over right away!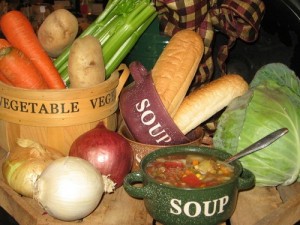 Homemade soups are a huge seller at Figaro Farms Fresh Market, and it's no mystery as to why Green locals rush over every day. With Figaro's soups, there's "no can opener required." Made from scratch with fresh ingredients picked from the farm, the talented staff of Figaro's crafts some truly delicious dishes. If you enjoy the taste of seasonal comfort foods, you're in for a treat when you visit this local favorite. Right now you can ward off the autumn chill with a bowl of Butternut Squash, Hunky Chunky (includes onions, peppers, cabbage, tomatoes), New England Clam Chowder, or Cabbage Noodle. There's no better way to warm up than with a bowl of good soup, and with Figaro Farms Fresh Market, you're getting the very best!
But soup isn't all that Figaro's has on the menu. Although that is probably what will initially bring in from your North Canton or Uniontown home! You'll be very pleased to find that Figaro's has a list of fresh baked breads and sweet treats that make the perfect accompaniment to any meal! With Banana Nut Bread, Cupcakes, Nut & Poppy Patica, Beehive Kuchen, homemade jams, apple cider, and Pumpkin Butter, your sweet tooth will definitely be satisfied. Just be sure to try some of Figaro Farm's famous Pumpkin Roll while you're there. Customers have claimed it's the best they've ever tried, and that's no small compliment!
Along with their fall food specialties, Figaro's selection of crisp fall vegetables and beautiful flowers is worth a look or two. You can pick up some sizeable pumpkins, as well as butternut, acorn, spaghetti, and Blue Hubbard squash. Picked right from Figaro's own backyard, you can be sure that these veggies are a safe and tasty addition to any dish you make. And if you've been meaning to decorate your home for the season, there's no better place to go for lovely fall flowers than Figaro's! Just a few steps away from their veggie patch you'll be able to choose from Asters, Chrysanthemums, shrubs, late flowering fall perennials, flowering kale, and many other items that thrive during this season.
Figaro Farms Fresh Market is one stop you'll want to make on your way home from your North Canton, Ohio or Uniontown, Ohio workplace. Especially if you're a fan of homemade soups, fresh baked bread, crisp fall vegetables, and other seasonal comfort foods! To find out their daily menu of fall food specialties, give them a call at 330.896.2220 or just head over to 180 E Turkeyfoot Lake Rd in Green, Ohio.