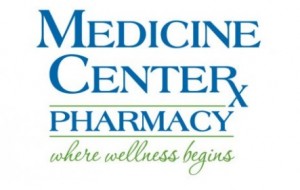 Getting involved and educating the community is what the Medicine Center Pharmacy does best…well, that and being a great pharmacy! And you might even think they are everywhere! Aside from their locations in Canton, Ohio; Louisville, Ohio; Minerva, Ohio and New Philadelphia, Ohio…you might have just seen them at a local health fair or festival, noticed their logo on the shirts of your local athletic team, or heard them on the radio! Everyone knows the familiar voice of Pharmacist Paul White from The Medicine Center Pharmacy! So much so, that you feel like you actually know him when you walk into Medicine Center Pharmacy. But, what some of you may not know is that you can get to know Pharmacist Paul White, his son, Pharmacist Brad White, and many others on the health-related talk show, Health Matters, every Friday morning on WHBC 1480 AM!
For more than 30 years, Pharmacist Paul White has been hitting the airwaves and educating the community about the benefits of Medicine Center Pharmacy through his radio advertising. And through those years, a lot has changed! And while change in the health care industry happens every day, Pharmacist Paul White and Medicine Center Pharmacy keep you up to date every Friday at 9:10am with a health-related talk show called Health Matters with Medicine Center Pharmacy.
Pharmacist Paul White, owner of Medicine Center Pharmacy, and his co-host/son, Brad White, Compounding Pharmacist and manager of the New Philadelphia store, talk about relevant health care topics with individuals and experts in the field. In the past, topics have included heart disease, nutrition, diabetes, estate law, allergies, and blood pressure. There is really something for everyone! If you have an illness or know someone that suffers from a certain condition and could benefit from such information, then tune in! Upcoming topics include a discussion on Diabetes Health with Sean Beach (RD, LD) and Liz Heizer (LD) on September 21st, and Carol Reed of Reed Funeral Home will be the featured speaker on October 19th. Medicine Center customers in the Canton, Minerva, and Louisville areas won't want to miss out!
If you are listening and have a question on the topic at hand or simply would like to give Paul White an idea for an upcoming show that would be of interest, contact the associates anytime at info@medshoprx.com. If any of the topics from previous shows seem interesting to you or you're a new listener, don't worry! You can go to www.whbc.com, click under "On Air" and find Health Matters with Medicine Center Pharmacy. There you will find all the previous health-related talk shows and topics to listen to via pod cast. Just click and listen! Of course, Medicine Center Pharmacy's job includes more than just educating the community. This local pharmacy is also here to serve your everyday healthcare needs, whether it's at any of the four convenient locations in Canton, Ohio; Louisville, Ohio; Minerva, Ohio; and New Philadelphia, Ohio, or on Friday mornings at 9:10am on 1480 WHBC. For a location closest to you, go online to www.MedShopRX.com.