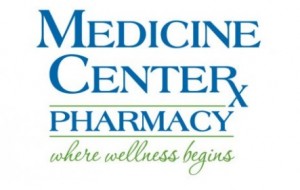 In this day and age, you can purchase almost anything on the Internet. From food, to pets, to clothing, to home furnishings, the web gives us the opportunity to buy whatever we want with the click of a mouse. But with all the conveniences of online stores, there are some things that just can't be found within your hard, plastic computer. For instance, the fast pharmacy service and individual attention that Medicine Center Pharmacy provides at each of their locations in Canton, Ohio; Louisville, Ohio; Minerva, Ohio; and New Philadelphia, Ohio. The benefits of a local pharmacy far outweigh those that you get online and even from the big-name store down the street. Not only does Medicine Center Pharmacy offer affordable prescriptions and medical supplies, but they do everything they can to make your errand a hassle-free one.
While it may be easy to jump on the computer and order the things you need, think about this for a moment—if you have a question about your medication, who do you ask? Do you have the option to speak to a real pharmacist? How do you know that they're qualified to give advice? The World Wide Web allows for anonymity, but this isn't always a good thing! But with Medicine Center Pharmacy you can feel confident that you are speaking to qualified pharmacists and pharmacy technicians at each of the locations in Canton, Louisville, Minerva, and New Philadelphia.
One benefit of a local pharmacy is that you are able to get to know the people who work there—greatly improving the quality of your experience. The associates at Medicine Center Pharmacy give each customer the individual attention they need and deserve. Unlike big-name or online stores, Medicine Center Pharmacy's staff takes the time to speak to their customers and help answer any questions they may have about a specific product. Not only does this make your task much easier, but it makes for fast pharmacy service as well! Being able to walk into your pharmacy, get the information you need, and purchase your medication quickly is something we can all appreciate.
Another reason to shop locally? Medicine Center Pharmacy genuinely cares about your wellbeing, which means they do whatever they can to save you money on the things you need. Medicine Center Pharmacy has many different ways of providing affordable prescriptions and medical supplies. Whether you pick up items from their own inexpensive product line, fill out one of their customer satisfaction surveys, or take advantage of their free delivery service, there are numerous ways that you can save money by shopping at Medicine Center Pharmacy!
The benefits of a local pharmacy just can't be matched by big-name stores or online shops, no matter what they claim. The fact is that the chances of a large company taking the time to get to know you and your specific needs are slim. But fortunately for you, Medicine Center Pharmacy is a locally-owned business with four locations in the Stark and Tuscarawas County areas. That means you can expect to receive fast pharmacy service and individual attention from friendly, knowledgeable staff members no matter where you live in Northeast Ohio. So, the next time you need affordable prescriptions and medical supplies, your only reason for hopping on the computer should be to visit Medicine Center Pharmacy's website at www.MedShopRX.com. Otherwise, head over to your nearest Medicine Center Pharmacy location for the products and service you need.