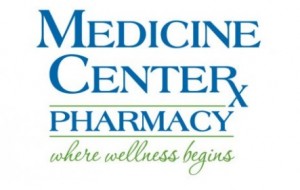 Medicine Center Pharmacy is a great place to shop for the wellness supplies you need, with locations in Canton, Ohio; Louisville, Ohio; Minerva, Ohio; and New Philadelphia, Ohio. The knowledgeable associates are there to offer their assistance with any questions you may have about their products or medical issues in general. But did you know that this full-service pharmacy also offers low-cost health screenings as well? That's right, Medicine Center Pharmacy has partnered with Mercy Medical Center to provide convenient monthly check-ups to Northeast Ohio residents. If you've been thinking about getting cholesterol or thyroid testing, then visit your nearest Medicine Center Pharmacy location to have it done at little cost to you!
Getting routine exams from your doctor is very important—especially as you get older. Since the immune system isn't quite as strong as it was when you were younger, you are at a greater risk of developing certain illnesses. Having thyroid and cholesterol testing now can tell you whether or not you have a health condition that needs to be treated. And the earlier such a condition is diagnosed, the better your chances are of controlling it or curing it completely. No matter what your age, family health history, or lifestyle choices may be—everyone can benefit from the convenient monthly check-ups that Medicine Center Pharmacy offers at their Canton, Louisville, Minerva, and New Philadelphia facilities.
Providing some of the very same tests that are offered at your doctor's office, Medicine Center Pharmacy and Mercy Medical Center can help you stay well and save you money. When you visit this full-service pharmacy in your area, you can get a low-cost health screening for total cholesterol, blood sugar, complete lipid profile, and thyroid. A combination of any of these tests is available and each one is less than $10. And, best of all, your screening results will be sent directly to you and, if you wish, to your physician.
Visiting Medicine Center Pharmacy for one of their convenient monthly check-ups is a great way to get the inexpensive preventative care you need. To find out Medicine Center Pharmacy's testing schedule, visit their website at www.MedShopRX.com. After you've confirmed the dates, you can take a trip to your nearest Medicine Center Pharmacy in Canton, Ohio; Louisville, Ohio; Minerva, Ohio; or New Philadelphia, Ohio and talk to the Mercy Medical Center representative about which low-cost health screening you're interested in. Once you've finished your test, you can proceed to pick up any wellness supplies you need at this full-service pharmacy.