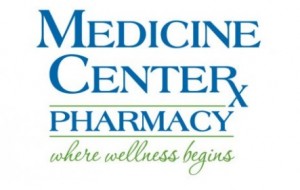 Everyone feels a little under the weather sometimes. It's to be expected. If the symptoms are particularly nasty and ruining your day, you can simply visit your local drugstore to pick up medicine to help any symptom…from cough or heartburn, to pain and fever relievers. These over-the-counter products are relatively inexpensive and can help you feel better in no time at all! Unfortunately, getting the necessary medicine when you are struggling with a serious illness is a little more difficult—especially if you are on a fixed income. Brand-name pills can be costly and hard to obtain if you don't have the funds. However, living in the Canton, Ohio; Louisville, Ohio; Minerva, Ohio; or New Philadelphia, Ohio area means you're just a short drive away from one of Medicine Center Pharmacy's locations. With the Generic Wellness Program offered by Medicine Center, you can obtain the affordable prescription you need to control your condition. Plus, Medicine Center Pharmacy's website provides a convenient way to look up medication information online.
Medicine Center Pharmacy's Generic Wellness Program includes over 400 affordable prescriptions. Whether you require a blood thinner like Warfarin, Digoxin for congestive heart failure, or Gabapentin to help you control the effects of epilepsy, you can find the appropriate dosage through this program at a low price. In fact, this local pharmacy offers a 30-day supply of these medicines for only $3.79 and a 90-day supply for $9.99. Not only is this a convenient option if you require daily supplements, but it is also less expensive than mail order. If you happen to be living on a fixed income, Medicine Center's program is a great way to ensure that you get the medical supplies you need at a price that fits your budget.
When you visit your local Medicine Center Pharmacy in Canton, Louisville, Minerva, or New Philadelphia, the associates will help you to find the proper medicine for your particular ailment. These experienced pharmacists and pharmacy technicians will make sure that you receive the correct drug and dosage that you need. But before you head over to Medicine Center Pharmacy, you can find medication information online through their website. Medicine Center gives you the option to search for your prescription by name, as well as by health condition. You can confirm that this local pharmacy offers a generic form of your medicine before you even walk in the door.
The associates at Medicine Center Pharmacy know how important it is to get the proper medicine you need, as well as how expensive brand-name products can be. That is why this local pharmacy offers affordable prescriptions through their Generic Wellness Program. Even if you are currently living on a fixed income, you can still receive the supplies you need at a price that won't ruin your budget. To find out more about this money-saving program, visit one of Medicine Center Pharmacy's locations in Northeast Ohio. If you would like to find medication information online, you can also go to www.MedShopRX.com to search for prescriptions.
2526 Tuscarawas Street W.
Canton, Ohio 44708
330-455-5422
700 West Main Street
Louisville, Ohio 44641
330-875-5525
251 East Street
Minerva, Ohio 44657
330-868-6200
551 West High Avenue
New Philadelphia, Ohio 44663
330-339-4466