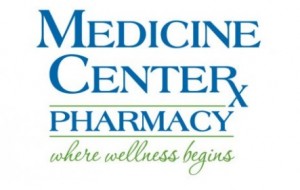 With the temperatures slowly dropping around Northeast Ohio, many of you are dreading having to go outside, warm up the car, and run your errands. And once winter makes its presence known, it's going to be bone-chilling cold! Fortunately, there are a lot of ways that you can scratch things off your to-do list without having to leave your home. You can pay your bills online, rent a movie off your TV or the Internet, and you can even print out stamps from your computer! But if you need health and wellness supplies, such as prescriptions, you may be frustrated with your lack of options when it comes to convenience. Well, Medicine Center Pharmacy solves that problem with their pharmacy delivery service. Since there are Medicine Center Pharmacy locations throughout the Stark County, Ohio and Tuscarawas County, Ohio areas, you can have your medications delivered to your door from the pharmacy nearest you! Interested? Then you'll be even more pleased to learn that you can get free delivery of medical supplies from Medicine Center. Yes, that's right—free!
As one of the most well-known pharmacies in Northeast Ohio, Medicine Center Pharmacy has quite a few customers who come in regularly. And the staff members of Medicine Center Pharmacy have noticed that some people have a tough time making it to the pharmacy to pick up their health and wellness products. Maybe they lack transportation and have to wait on a friend or family member to give them a ride. Maybe they have difficulties getting the kids together to make the trip. Maybe they have mobility issues or they just hate going outside in the cold. Despite the reasons, Medicine Center Pharmacy decided to make it easier on their customers by offering a pharmacy delivery service. And customers really appreciate it!
If you live in the Stark County or Tuscarawas County area, then you're in luck—Medicine Center Pharmacy will have your medications delivered right to your door! All you have to do is call the Medicine Center Pharmacy location closest to your home. Anytime during the week, you can have the prescriptions, diabetic supplies, incontinence supplies, over-the-counter items, lift chairs, or ostomy supplies you need brought to you without having to leave your home! If you have mobility issues, rambunctious kids, or an aversion to the cold, you'll really appreciate this convenient service. Plus, you'll love the fact that it doesn't cost anything to you! On top of offering a great service that can eliminate a lot of stress from your day, Medicine Center Pharmacy gives customers free delivery of medical supplies.
To find out how you can have medications delivered to your door by Medicine Center Pharmacy, visit www.MedShopRX.com. Or better yet, call the location closest to your Stark County, Ohio or Tuscarawas County, Ohio home. One of the Medicine Center Pharmacy staff would be happy to explain their pharmacy delivery service in greater detail. Whether your goal is to avoid the cold or you'd just like an easier way of getting prescriptions, you'll want to contact this Northeast Ohio pharmacy and get free delivery of medical supplies.
2526 Tuscarawas Street W.
Canton, Ohio 44708
330-455-5422
700 West Main Street
Louisville, Ohio 44641
330-875-5525
251 East Street
Minerva, Ohio 44657
330-868-6200
551 West High Avenue
New Philadelphia, Ohio 44663
330-339-4466