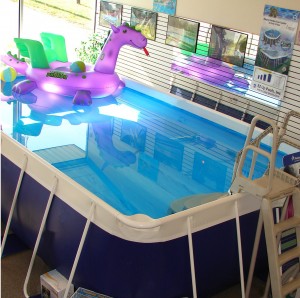 Worried about rising gas prices and the cost of family fun and entertainment this summer? Don't sweat it; Ohio Pools & Spas has the perfect solution. Family fun will only be a few steps away when you add an above ground pool to your Northeast Ohio backyard!
Ohio Pools & Spas carries two kinds of above ground pools: Traditional and Softside. Both pools are Northeast Ohio proof, and made to withstand the winter elements. One of the biggest advantages of a Softside pool is that you can install it yourself! Also, they are technically stronger than a standard vinyl liner pool. Because of the durable construction, Softside pools are the only rectangular above ground pools made, allowing you to choose a pool that does not take up unnecessary space, better fits your yard, and leaves you room to add attractive landscaping around your pool.
If you are not sure that a Softside pool is right for you, then a Traditional Steel Wall/Vinyl Liner above ground pool may work better. These durable pools have been popular for backyard family fun for decades and have an aesthetic that many people love. Ohio Pools & Spas features several models and many different sizes of these round pools with exterior designs that enhance the overall beauty of your backyard.
If you're considering an above ground pool for your Northeast Ohio home, talk to the professionals at Ohio Pools & Spas. These experts can assist you in determining the size and style that is right for you and your home, as well as your budget. Purchasing an above ground pool may not be as expensive as you think, and the cost is defrayed when you factor in the money that you will be saving on gas by not traveling back and forth to your local community pools all summer long. Furthermore, having a pool in your own backyard makes it easy to keep on eye on the kids, giving you peace of mind, and making your life less stressful.
With your own backyard pool, you decide when you swim. You never have to worry about what time the pool opens or closes, and you don't have to wait until after Memorial Day to begin swimming. You can take advantage of the unseasonably warm days, like the record-setting March that Northeast Ohio recently experienced. You will definitely be the envy of all your friends and neighbors with your new Softside or Traditional above ground pool.
Ohio Pools & Spas has an exemplary reputation for customer service, and will always be there for you after the sale is complete. They carry everything needed to care for and maintain above ground pools, and their expert staff can assist you with any questions or concerns you may have after installation in regards to water care, accessories, ease of maintenance, or anything else.
Transform your backyard into a family fun center with a new above ground pool from Ohio Pools & Spas. You can find additional information about Traditional and Softside pools online at www.OhioPools.com or head over to your nearest Northeast Ohio showroom!
Ohio Pools and Spas
6515 Whipple Ave. NW
North Canton, Ohio 44720
Phone: 330.494.7755
Hours: Monday – Friday 10am-8pm; Saturday 10am-6pm; Sunday 11am-4pm
Ohio Pools and Spas
5826 Mayfield Rd.
Mayfield Heights, Ohio 44124
Phone: 440.442.2775
Hours: Monday – Thursday 10am-8pm; Friday – Saturday 10am-6pm; Sunday 11am-4pm
Ohio Pools and Spas
25313 Lorain Rd.
North Olmsted, Ohio 44070
Phone: 440.471.4439
Hours: Monday – Thursday 10am-8pm; Friday – Saturday 10am-6pm; Sunday 11am-4pm