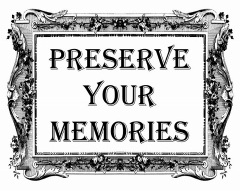 As the years go by, technology becomes more and more advanced. But chances are you still have old photos, VHS tapes, and films laying around your Wayne County, Ohio or Summit County, Ohio home. And in the event of a fire or flood in your Akron, Ohio residence, these are probably the first items that you would grab. But even though you can save your possessions from such an event, you can't protect images and videos forever. The fact is, unless you transfer old forms of recording to DVD, you will end up losing them due to normal wear and tear. Preserve Your Memories knows how quickly these items begin to deteriorate. Fortunately, this Wooster, Ohio area company can repair and restore tapes, films, and photos.
While you may believe that your photographs and films are safe if they are kept in a sealed container, these items will continue to erode. Regardless of where you put them, your cherished possessions still suffer everyday wear and tear from heat and dust. Everything from pictures of your child's first day at school to videos recorded at your wedding will eventually break down completely—the content no longer viewable.
Many people in the Wayne County and Summit County areas might protest that if their videos are recorded on a VHS tape, they're safe. However, Preserve Your Memories lets all Wooster area residents know that this isn't the case. In fact, these products have a lifespan of only 15-20 years, and that is a best-case scenario. The audio and video quality of these items is affected by the number of times they are viewed! Plus, it is increasingly difficult to watch your old home movies as the antiquated machines required to play VHS tapes and 8 or 16 mm films are nearly impossible to buy brand new. While you undoubtedly want to protect images and videos from past events, keeping them in their original format will only lead to their deterioration.
If you want the most effective way to keep your treasured possessions in good condition, you can enlist the help of Preserve Your Memories to transfer old forms of recording to DVD. The experienced staff at this full-service multimedia company will work with you to repair and restore tapes, films, and photos. Instead of letting these items waste away in their outdated format, sealed in a box in your Akron home, why not simply convert them to DVD? Not only will they be safely contained on a disc, but you will be able to do so much more with them! Whether you decide to put your videos on YouTube or create digital files for your pictures is up to you, but Preserve Your Memories will provide you with a master copy of your DVD to store in a safe place.
While it would be wonderful if we could protect images and videos in their original format, it's just not possible. But what you can do is contact Preserve Your Memories to transfer old forms of recording to DVD. This multimedia company near Wooster, Ohio can repair and restore tapes, films, and photos so you can share them with your Akron, Ohio loved ones for years to come. To find out more about Preserve Your Memories and the services they provide to those in the Wayne County, Ohio and Summit County, Ohio areas, visit www.PreserveYourMemories.us or call 330.201.6777.