Father's Day is fewer than three weeks away! Have you started your shopping yet? If you haven't, please don't say that it's because you're waiting for all those sales on socks and ties to begin. Why not skip the socks and ties, and get your Canton, Ohio or Cleveland, Ohio area dad something that he can really use, not to mention something that he really wants? At Ohio Pools & Spas, you can find more than just swimming pools and hot tubs. You can also find everything that dad needs to equip his new Northeast Ohio game room. From billiards tables and bars to poker tables and spectator seats, Ohio Pools & Spas is your one-stop-shop for what dad really wants this Father's Day!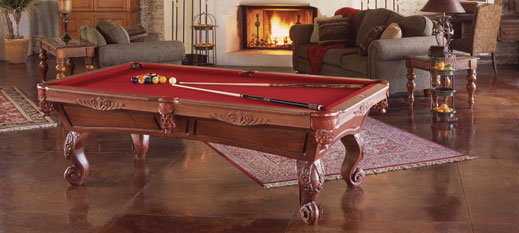 Ohio Pools & Spas carries Connelly billiards tables, which joins classic craftsmanship and modern technology, a combination dad is sure to appreciate. You have an incredible variety of options available when it comes to choosing a Connelly billiards table. Select from six different sizes, thirteen finishes, and over thirty different models! There are even different feature levels to fit anyone's ability, from beginner to pro (but you don't have to tell your dad that you picked up an "easy" one for him). With that many choices, you will definitely need to work with the experts at one of Ohio Pools & Spas' Northeast Ohio locations to select the size and model that will be best for your dad. It might also be a good idea to take mom along, just in case she'd like to have some say in it, too.
Once you have settled on the features of dad's new billiards table, and you really can decide everything down to the last detail—even the pocket style—it's time to move on to the other pieces dad will need for his game room. The three-in-one game table by California House can work as a dining table, but one quick flip, and becomes the perfect poker table that even includes slots for chips. The versatile game table has plenty of room for your Cleveland area family to gather around for a friendly game, and works just as well when dad hosts a guys' night in.
Too many guests in dad's Canton area game room for everyone to play at once? Not to worry. Ohio Pools & Spas also carries bars, pub tables, bar stools, and spectator seats where everyone can relax and enjoy the games while waiting for their turn, or just offers encouragement from the sidelines. All California House products are made with the highest quality materials, and dad will be enjoying these gifts for many years to come without ever worrying about pieces needing replacement.
Working with the knowledgeable staff at Ohio Pools & Spas, you will be able to design dad's ideal game room with coordinating pieces that will even make mom happy with their elegant design. And, if you're really lucky, maybe you'll even get to play, too!
Stop by one of Ohio Pools & Spas three Northeast Ohio locations in the Canton, Ohio and Cleveland, Ohio areas or visit their website at www.OhioPools.com to learn more about their Connelly billiards tables and California House bars and chairs, as well as dining and poker tables, and celebrate Father's Day with a night of family fun!
Ohio Pools & Spas
6515 Whipple Ave. NW
North Canton, Ohio 44720
Phone: 330.494.7755
Hours: Monday – Friday 10am-8pm; Saturday 10am-6pm; Sunday 11am-4pm
Ohio Pools & Spas
5826 Mayfield Rd.
Mayfield Heights, Ohio 44124
Phone: 440.442.2775
Hours: Monday – Thursday 10am-8pm; Friday – Saturday 10am-6pm; Sunday 11am-4pm
Ohio Pools & Spas
25313 Lorain Rd.
North Olmstead, Ohio 44070
Phone: 440.471.4439
Hours: Monday – Thursday 10am-8pm; Friday – Saturday 10am-6pm; Sunday 11am-4pm