If you're like a lot of people, there are some days when you just don't want to cook. With the temperatures rising in the Cleveland, Ohio area, the idea of standing in front of a hot stove sounds really unappealing. But what if you're tired of chain restaurants and fast food? The Pierogi Lady offers a unique alternative to boring fare with her delicious handmade pierogies, made from her very own family recipe. Those of you looking for a meat and animal byproduct free option can also enjoy tasty vegan comfort food with The Pierogi Lady's selection of vegan pierogies.
Autumn Johnson became The Pierogi Lady when her friends suggested that she offer her family recipes to the public. Having found that pierogies in the freezer section just couldn't compare to those prepared by her Grams, Autumn started The Pierogi Lady business and began making handmade pierogies in a wide variety of flavors. Judging by her growing popularity, those in the Cleveland area are certainly glad she did!
Based out of the Hartville MarketPlace in Hartville, Ohio, The Pierogi Lady has a long list of pierogi options that just keeps growing! It's obvious from the expanding menu that The Pierogi Lady enjoys what she is doing. Not only are her handmade pierogies delicious, but they are wonderfully creative as well. Whether you are craving traditional potato and cheese, tender corned beef and cabbage, sweet blueberry, or Crab Rangoon, The Pierogi Lady has a mouth watering option for lunch or dinner. And for anyone wanting to avoid meat and animal byproducts, try a tasty potato leek, creamy spinach and mushroom, or tangy apricot, as these are just a few of the various options of vegan comfort food The Pierogi Lady has on the menu.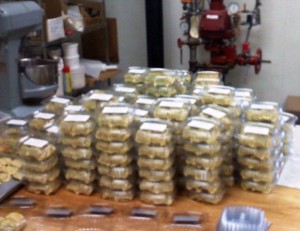 So if you're near the Cleveland, Ohio area and want to try some delicious handmade pierogies for your next meal, The Pierogi Lady is the lady to see. Even if you desire some warm vegan comfort food, The Pierogi Lady's menu of family recipe pierogies will have something for you! To find The Pierogi Lady, visit the Hartville MarketPlace at 1289 Edison Street NW at booth 83-84-85 aisle 3 South. During the summer months The Pierogi Lady can also be found at the Hudson Farmers Market, the city of Green at the Summa/Green YMCA Campus, and Peninsula Farmers' Market at Heritage Farms in Peninsula, Ohio. For more information about The Pierogi Lady visit her website at www.mypierogilady.com or check her out on Facebook.