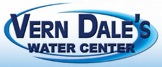 How many times have you reached for a nice, cold glass of water in your Massillon, Ohio or North Canton, Ohio home only to be disappointed by that first sip of metallic tasting liquid or water that tastes like a swimming pool? Vern Dale's Water Center in Canton, Ohio prides itself on improving water quality in homes like yours. They offer some of the most up to date advances in water treatment services.
Their water purification systems and other treatment services cover all types of applications from residential to commercial and even industrial. Since water quality can be different in each community, Vern Dale's Water Center can help you determine which purification system is right for you.
Whether your water is well water or city water, Vern Dale's Water Center has a solution to improve the water quality in your Massillon home. Think about it, water is involved in many aspects of our day to day life. Water affects cooking, cleaning, laundry and showering. So doesn't it make sense to improve water throughout your home? A whole house water purification system may be the solution that will take your North Canton home's water from good to great! A whole house system can come in the way of conditioning or filtration. By conditioning the water, this will remove the "hardness" of your water—hence the term "water softener." Conditioning the water offers many benefits, such as less scum build up or "ring in the tub," cleaner laundry, and even can extend the life of your household appliances. A couple of the most popular types of conditioning systems that Vern Dale offers come in the way of softener salts and chlorination systems.
Filtration is another great way to improve the water quality in your Canton home. A home filtration system has many benefits for your water. It helps to provide clear, clean water for cleaner laundry, easier dishwashing and better showers. After a shower with filtered water you are likely to feel cleaner with less of a soapy residue on your body. There are also great benefits to the hardware and appliances in your home by using a filtration system. Filtration works by removing debris and unpleasant odors or tastes from your water, therefore allowing less build up of sediment in water heaters and plumbing, as well as improved taste of your household water. By doing this you are able to prolong the life of these important fixtures in your home and enjoy drinking a glass of water more. Since there have been so many advances in water treatment services, you don't have to worry to "remember" to change any of the filters. Most of the filtration systems that Vern Dale's offers have a filter change reminder system that takes away the stress of this tedious task.
If you are looking to improve the water quality in your North Canton, Ohio or Massillon, Ohio home, visit Vern Dale's Water Center. They are located at 3827 Kirby Ave NE in Canton, Ohio. You can check out their website at www.verndalewater.com to see what water purification systems that they offer. You can also call them at 330.455.9466 to schedule an appointment for a free water analysis and learn about the advances in water treatment services that can benefit your home the most.