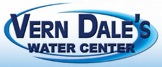 Those of us who have been Ohioans for at least a few years know just how temperamental the weather can be. Take the past couple of weeks for example. People around the Canton, Ohio areas have experienced snow, ice, single digit temperatures, rain, sunshine, and temperatures upwards of fifty degrees—all within a matter of weeks! Regardless of how unpredictable Ohio weather may be, we can still expect to receive some snow and ice this season. So, it's within your best interest to practice winter safety. Fortunately, Vern Dale's Water Center has a few winter tricks to share with Massillon, Ohio and Alliance, Ohio residents. While you're probably familiar with Vern Dale's large selection of water treatment options, you may not know that they also offer a variety of deicing salt to help clear your driveway!
One of the worst parts about winter in Ohio is that you never know when we are going to experience low temperatures or receive freezing rain. Sure, there are a number of meteorologists who serve the greater Canton area, but oftentimes Mother Nature has a different idea of what the weather is going to be like! That being said, it's always a good idea to have a few winter tricks up your sleeve just in case.
Vern Dale's Water Center is based in the Northeast Ohio region, so they're quite familiar with our fluctuating weather patterns. And that's why this locally-owned and operated business offers a number of deicing salts to their customers, along with their water treatment systems.
Deicing salts are great to have on hand as they can help melt any snow or ice that may be laying on the surfaces outside of your Massillon or Alliance home. Halite Winter Deicing Crystals offer a mixture of both large and small sodium chloride crystals, perfect for those of you who want salt that melts on contact and doesn't leave any oily residue. Peladow Calcium Chloride Deicing Pellets give off heat as they dissolve, allowing you to use less product. Jiffy Melt Deicing Crystals is a specially formulated blend of magnesium chloride and sodium chloride which not only acts fast and leaves no oily residue, but it is also a cost effective choice! Vern Dale's also offers Greenmelt, a product designed to give sidewalk and parking lot crews a head start with its calcium chloride and sodium chloride blend.
While these are some of Vern Dale's most popular products, they also have other deicing salts available to help you clear your driveway, be it concrete or gravel. These types of products are great to have in your garage for winter safety, and can help get rid of any slippery surfaces that may emerge overnight.
One of the simplest and most well-known winter tricks is the use of deicing salts to eliminate snow and ice from outdoor surfaces. If you're concerned about winter safety this year, make sure to look into these products to help clear your driveway, sidewalk, or parking lot. Visit www.verndalewater.com to learn more about these products yourself. You can even give Vern Dale's Water Center a call at 330.455.9466 for convenient home delivery to your Massillon, Ohio or Alliance, Ohio home!
Vern Dale's Water Center
3827 Kirby Ave at Rte. 62
Canton, Ohio
Monday-Friday 8am-5pm
Saturday 8am-12pm