The best way to start the New Year is by starting fresh within your home. Is your North Canton, Ohio; Canton, Ohio; Massillon, Ohio kitchen stuck back in the 1960's? Have you been staring at the same wooden panel walls and orange countertops? No matter what personal touches you add to your kitchen, it will also have that dated look. If you have been dreaming of a custom kitchen but are afraid of the cost, Windy Hill Hardwoods has the perfect solution for you. Their laminate countertops and solid woods cabinets will make your kitchen look brand new instantly. To achieve a professionally designed kitchen, Windy Hill Hardwoods, Inc. send a designer out to your kitchen and help you see what works for your home.
Laminate countertops are fast becoming one of the most popular countertop choices. Laminate offers more edge choices than other materials. Besides a range of rolled edges and a beveled edge, you can edge your countertop with wood, or use solid surface inserts to create an eye-catching decorative edge. These countertops, like those made from granite and engineered stone, have seams where the countertop sections come together. A good fabricator can make laminate seams almost disappear. Laminate is the only countertop that can be formed into a seamless cove backsplash to keep spills from seeping behind the cabinets, which is great for homes with small children.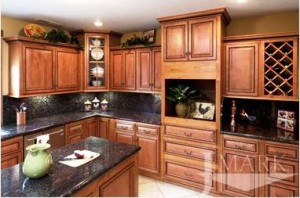 Windy Hill Hardwoods, Inc. can transform your space into a custom kitchen. From the under cabinet lighting, hidden European hinges, and adjustable shelves your kitchen will look as if you designed it yourself to suit you and your family's needs. Creating a custom look can be costly but Windy Hill's affordable luxurious details allow you to remodel the kitchen, the bathroom, and any other room in your home while saving money. If you would like a smoother look in your kitchen, they can install cabinets that open from the bottom, keeping your cabinets seamless.
Windy Hill Hardwoods, Inc. can help you achieve a professionally designed kitchen by sending a designer to your home to help see what works for you and your home's layout. A designer will help you chose what countertops, backsplash, and cabinetry will work for your budget. A new kitchen layout can help make your North Canton, Canton, or Massillon home feel warm and inviting.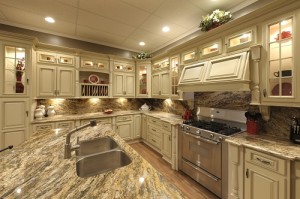 A professionally designed kitchen can make your home feel new and fresh. With Windy Hill Hardwoods, Inc. your options for a new kitchen are endless. Whether you want new backsplash, laminate countertops, or top of the line cabinets Windy Hill can create your dream kitchen. Families spend copious amounts of time in their kitchens from creating memories over dinner to finding new ways to use family recipes. Make sure you spend that time in a custom kitchen, assembled to benefit you and your North Canton, Ohio; Canton, Ohio; Massillon, Ohio home. For more information, call them at 330.837.9710 today!