Do you want to make some improvements to your Stark County, Ohio home, but don't want to spend a lot of money? Maybe there's nothing that's "wrong", per se, but you know that it could be better. If you still like your décor, and It's not the wall color, but there's just something missing from your Canton, Ohio rooms. One way to add elegance to your Massillon, Ohio area home is with trim and molding. New doors can also breathe new life into an old room. There's nothing like the warmth of hardwoods, but stripping years of paint and stain to find the original finish is a long, labor intensive process. Instead, head over to Windy Hill Hardwoods in Canal Fulton, Ohio for genuine hardwood pre-hung interior doors and pre-sanded trim pieces, including decorative corbel moldings, in your favorite hardwoods to give your home a classic look!
Windy Hill Hardwoods has their own in-house door shop, and regularly stocks some of the most beautiful and popular hardwoods, including pine, poplar, and oak. Instead of hanging a slab door in a drab frame, choose a locally made hardwood door! Choosing a genuine hardwood pre-hung interior door means a perfect fit and a perfect match every time, not to mention beauty and durability. You also won't have to worry about going all over Stark County to find the best hinges or jamb—that work has been done for you. A door may sound like such a subtle change, but you'll be amazed at the difference that it can make.
Have some doorways in your Canton home that you prefer to leave open? That doesn't have to mean that you're stuck with more painted trim. Let Windy Hill Hardwoods help you find the trim that will perfectly complement your existing architecture and décor, or even dress it up a bit to add that "wow" factor! And, once again, Windy Hill saves you time and labor by sanding everything in advance. Pre-sanded trim pieces are ready for your chosen finish as soon as you receive them. Of course, before you worry about finish, you first have to choose from the spectacular array of profiles available for your trim.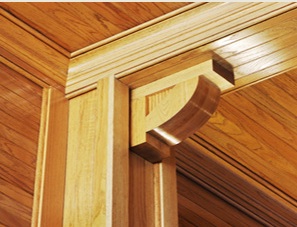 Still not quite enough? How about decorative corbel moldings for the corners of your Massillon home's open doorways? It's little touches like these that add style and a hint of something extra to your home without making things look busy or detracting from your décor or architecture. If you're looking to make a more significant change, consider adding paneling to a room or along your staircase. As always, there are multiple profiles for you to choose from at Canal Fulton's Windy Hill Hardwoods.
Whether you want to add subtle changes with new decorative corbel moldings or replace cracked and peeling painted doors with genuine hardwood pre-hung interior doors, Windy Hill Hardwoods can help. Explore the best selection of profiles for pre-sanded trim pieces and paneling available in Stark County, Ohio at their showroom. Even if you're not sure what you want to change in your Canton, Ohio or Massillon, Ohio home, a trip to Windy Hill may be just what you need for inspiration! Give them a call at 330.837.9710 or find them online at WindyHillHardwoods.com for more information or schedule a tour of their Canal Fulton, Ohio showroom today.